China unveils world's longest sea bridge in Qingdao
With an overall length of 42.58 kilometers, the Haiwan Bridge will be open to traffic in the first half of 2011. The route between Qingdao and Huangdao will be shortened by 30 kilometers, cutting the travel time by 20 minutes at 80 kilometers per hour.
China has unveiled the world's longest sea bridge, which stretches a massive 26.4 miles (42.58 kilometers) – longer than a marathon.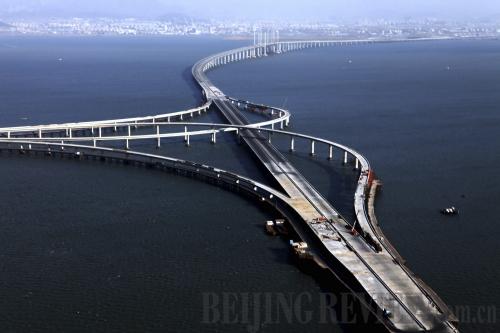 Photo taken on Dec 8 shows an aerial view of the Qingdao Haiwan Bridge under construction. The main section of the bridge was joined up on Dec 22. The bridge links the main urban area of Qingdao city, East China's Shandong province, with Huangdao district, straddling the Jiaozhou Bay sea areas (located on the southern coast of the Shandong Peninsula). [Photo/Xinhua]
The three-way Qingdao Haiwan Bridge is a staggering 174 times longer than London's Tower Bridge, over the Thames River – and shaves 19 miles off the drive from Qingdao to Huangdao.Two separate groups of workers have been building the different ends of the structure since 2006.And they were relieved when all the bridges connected properly, which they managed to do on December 22.One engineer commented: 'The computer models and calculations are all very well but you can't really relax until the two sides are bolted together.'Even a few centimetres out would have been a disaster.'With an overall length of 42.58km, the route between Qingdao and Huangdao will be shortened by 30km, cutting the travel time by about 20 minutes.However, the colossal construction is set to hold the record as the longest sea bridge only for a few years – and it will be bettered by another Chinese bridge in the next decade.Last December officials announced workers had begun constructing a bridge to link southern Guangdong province with Hong Kong and Macau.Set to be completed in 2016, officials say the £6.5billion bridge will span nearly 50km (30 miles).'Through a more convenient and fast transport network, Hong Kong's financial, tourism, trade and logistics and professional services can become better integrated with the Pearl River Delta and the surrounding areas,' said Donald Tsang, Hong Kong's Chief Executive.The bridge will be a six-lane expressway that can handle earthquakes up to magnitude 8.0, strong typhoons and the impact of a 300,000 tonne vessel, said Zhu Yongling, one of the officials leading the project.Even when constructed that structure will be dwarfed by the longest bridge in the world, which is also in China. The Danyang–Kunshan Grand Bridge, also Chinese, is an astonishing 102 miles in length.